HO SCALE FREELANCE ROLLING STOCK

Home Shops has a number of great cars in the works! The following projects are at various stages in the manufacturing process and are listed in the order that the factory orders were placed. Cars listed below are not yet available for pre-sale.
Tangent Scale Models - 1917 Design Tank Car

Our first Virginian and Ohio offering! Home Shops worked closely with Brad and Allen McClelland to develop this very unique and exciting car. This tank car represents a company-service car assigned to Waste Oil removal. These cars will have 1960 and 1962 rebuild dates and will be offered in four road numbers. Each road number will have a unique V&O shop location stencil as follows:
V&O 402 - AFTON, VIRGINIA
V&O 405 - GALLIPOLIS, OHIO
V&O 408 - WEST CARROLLTON, OHIO (RE-STENCIL)
V&O 409 - WEST CARROLLTON, OHIO
We are proud to have the V&O as a partner railroad! This freelance concept has inspired many freelance and proto-freelance modelers to do great things. This Limited Edition release will be a must-have for V&O fans and freelance model railroad collectors!
ETA - 4th Quarter 2022
Tangent Scale Models - 86' GSC Auto Parts Boxcar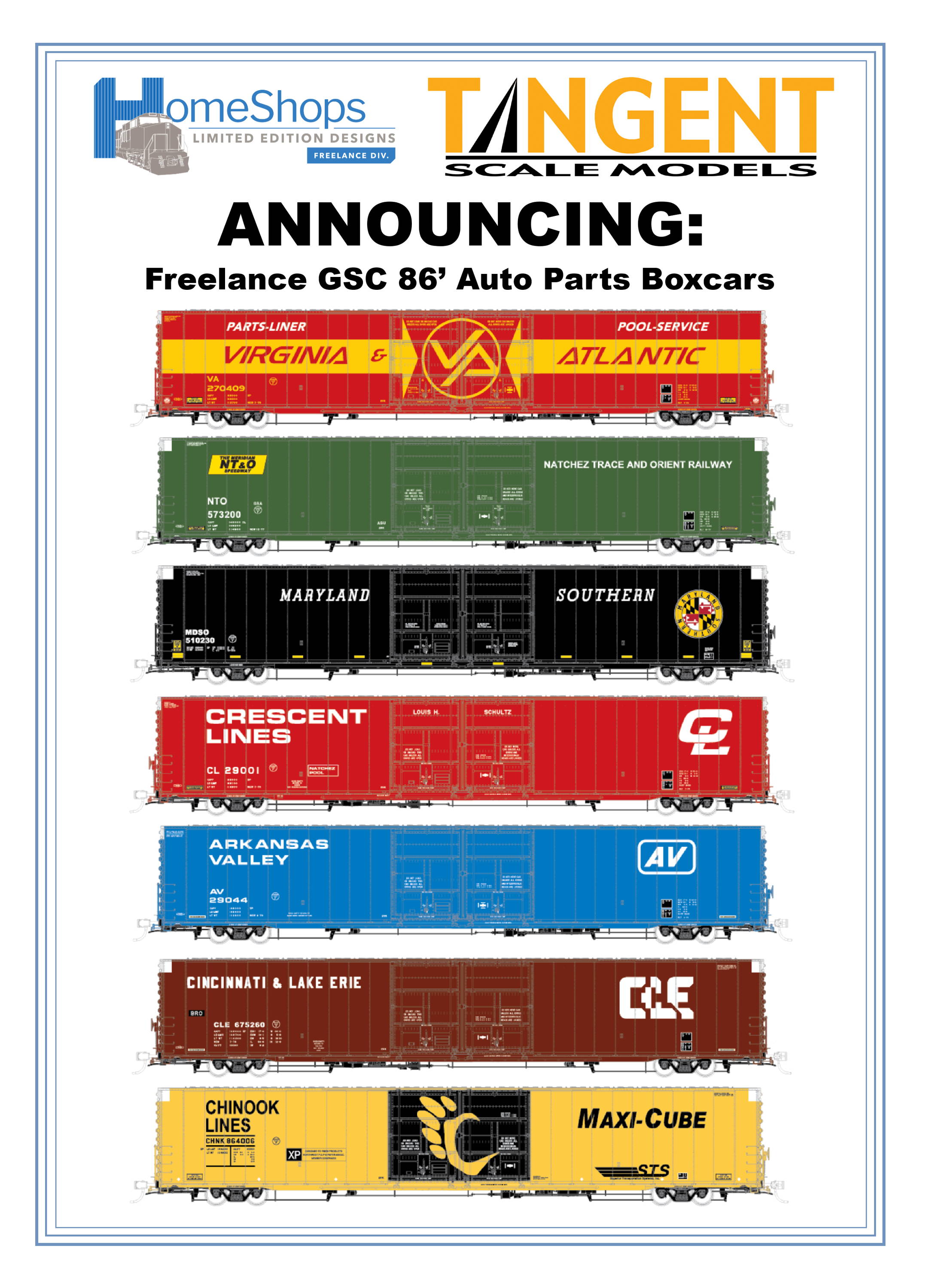 What a better car to introduce these freelance model railroads to your fleets than Tangent Scale Model's magnificent 86' Greenville Steel Car Company auto parts boxcar! These cars will serve as fitting ambassadors for these great railroads!
The railroads selected for this order are:
Arkansas Valley
Chinook Lines
Cincinnati and Lake Erie
Crescent Lines
Maryland Southern
Natchez Trace and Orient
Virginia and Atlantic
Each road will be offered in two road numbers except for the Crescent Lines. The Crescent Lines will be the first participant in the Home Shops "Founders Fleet" with each car being named after a contributing member of the railroad. Four Crescent Lines Founders Fleet cars will be produced in this release as follows:
CL 29001 - Louis H. Schultz
CL 29012 - Andy Sperandeo
CL 29023 - Richard Boutall
CL 29034 - Clyde F. "Bill" Williams
ETA 2nd Quarter 2023
Tangent Scale Models - PS-4427 High Side Covered Hopper
The Tangent Scale Models PS-4427 high side covered hopper car is another beautiful model that will proudly represent the freelance community! We have chosen six new road names for this release
1 - Mike Confalone's Allagash

2 - David Barrow's Cat Mountain and Santa Fe

3 - Devin Jackson's Mesquite Belt

4 - Neil Roggensack's Montana Northland
5 - Brad Bourbina's Neosho Valley Lines

6 - Allen Whitaker's Tennessee Southern

ExactRail - Berwick 7580 Appliance Boxcar
This car is our first project with model manufacturer ExactRail! The Berwick 7580 Appliance Boxcar is an amazing model that lends itself well to a number of freelance model railroads. For this release we have selected the following four railroads:
1 - Tom Patterson's Chesapeake Wheeling and Erie

2 - Christopher Palmieri's Texas and Great Northern

3 - Allen and Brad McClelland's Virginian and Ohio

4 - Sam Meehan's Wyoming Valley and Western