Limited Edition Freelance Model Railroading!
AV - CSR - TGN - WFN are IN STOCK!


GSI - KP - MCIS are ARRIVING SOON!
ONLY 65 CARS OF EACH ROAD NUMBER PRODUCED!
Our First Freight Car Release!
We have selected the Tangent Scale Models PS-4750 covered hopper car as the canvas on which to paint the first HOME SHOPS run of custom freelance cars!
Four Road Names are IN-STOCK!
Available in four road numbers each of seven first-time production run Freelance Model Railroads! Only 65 cars of EACH ROAD NUMBER were produced so ensure you get the ones you want...!

Tangent Factory Samples Have Arrived!

View "What's Neat This Week" Episode No. 196
Ken Patterson and James Regier introduce the first release of Home Shops PS-4750 covered hopper cars on the What's Neat This Week podcast. We really like James Regier's take on the Kansas Pacific cars!
Listen to our First interview on the "a ModelersLife" Podcast
Be sure to press the "Play" button below to listen while you discover our website! This podcast is the Home Shops interview with Lionel Strang, Tony Cook, and Christopher Palmieri. All things "Home Shops" related are discussed in this informative and entertaining episode!
"At

HOME SHOPS

we give a green light to imagination by delivering quality freelance model railroad equipment and rolling stock to your High Iron!"

Art takes on many forms. The interpretation of subject matter in art is as varied as the number of artists depicting that subject.
Just as Rembrandt and Picasso renditions of a common scene will appear vastly different, so will the model railroad interpretations of a prototype and a freelance model railroader vary.
Here at HOME SHOPS we recognize that the Freelance Model Railroad community is vibrant and we wish to showcase that art in all of its forms!
"HOME SHOPS" the Painting!
What a better way to convey freelance creativity as art than to portray freelance railroads IN art...A painting commissioned to world renown railroad artist Robert West to be exact! That is right, to celebrate the launch of Home Shops we have commissioned a painting that will include all seven freelance road names of our first release!
This commemorative painting will be something special and will fit right in hanging on the wall of your Club Layout or even your own Home Shop!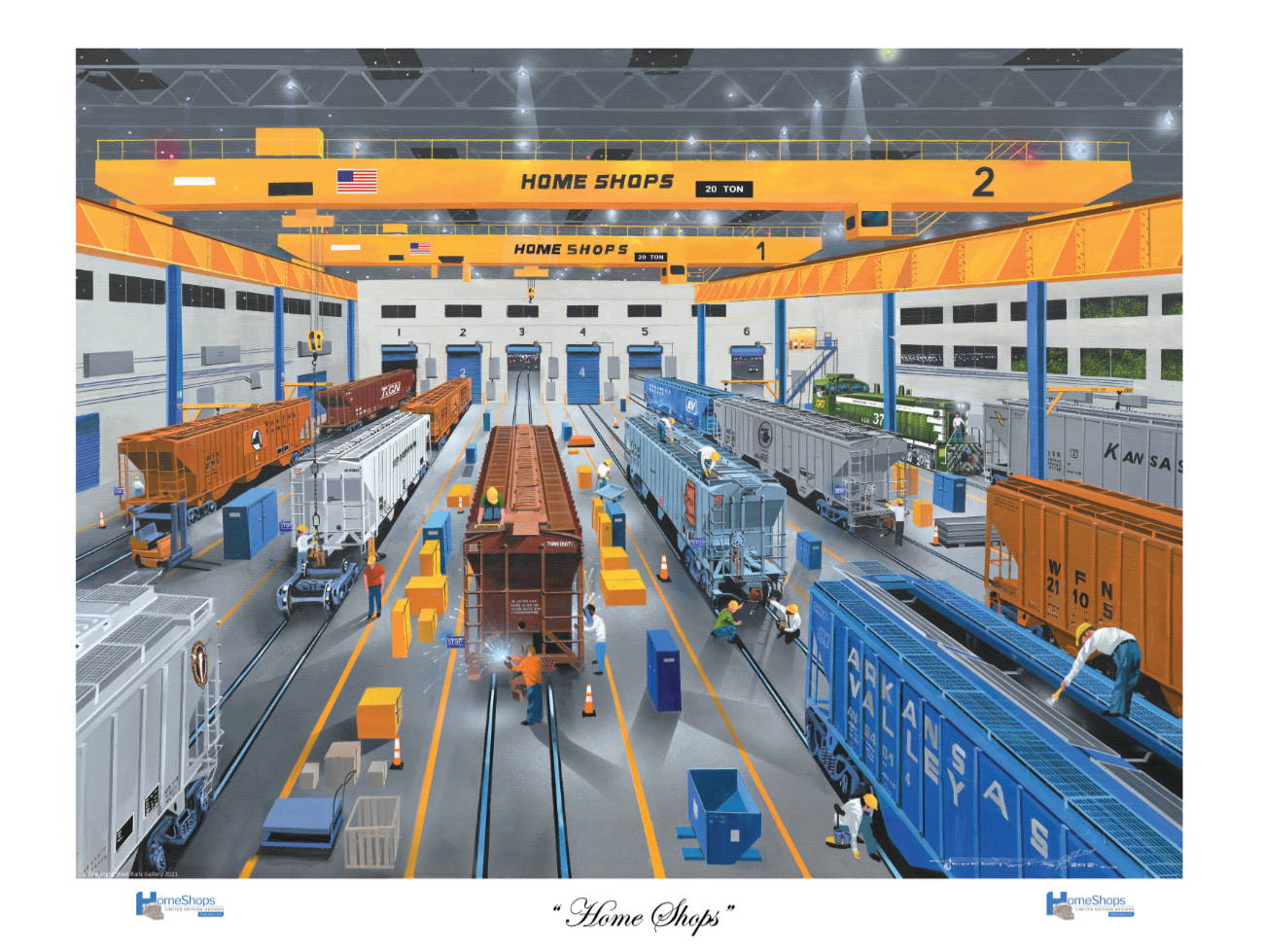 Limited Edition 18"x24" "HOME SHOPS" lithographs, numbered and signed by Robert West, will be available exclusively through Home Shops while supplies last! Own a piece of model railroad history as art celebrating the creation of a great company does not happen very often! Robert West exemplifies his mastery of fluorescent paints in this unique work as he hi-lights many shop employees performing prototypical tasks on the cars!
Trending Home Shops Blog Posts