Texas and Great Northern PS-4750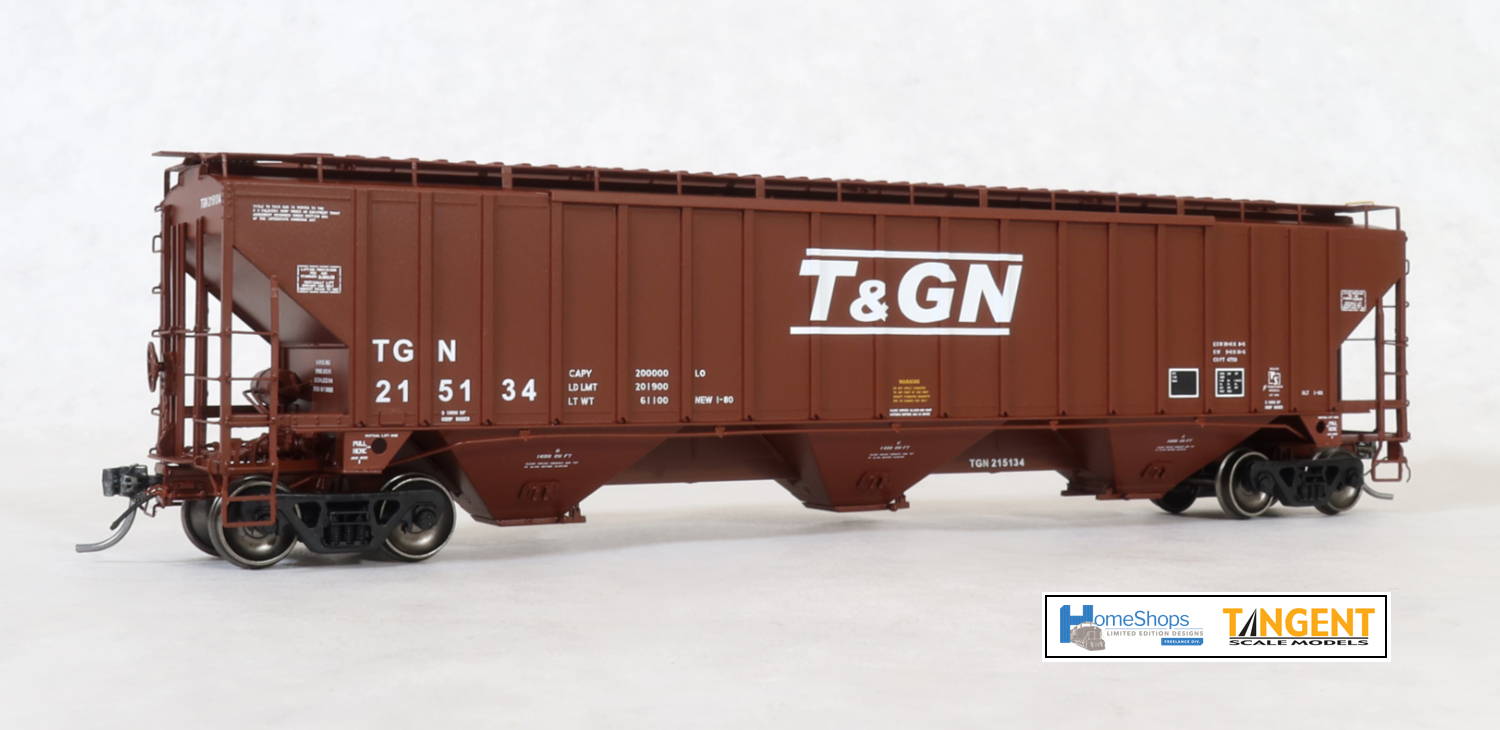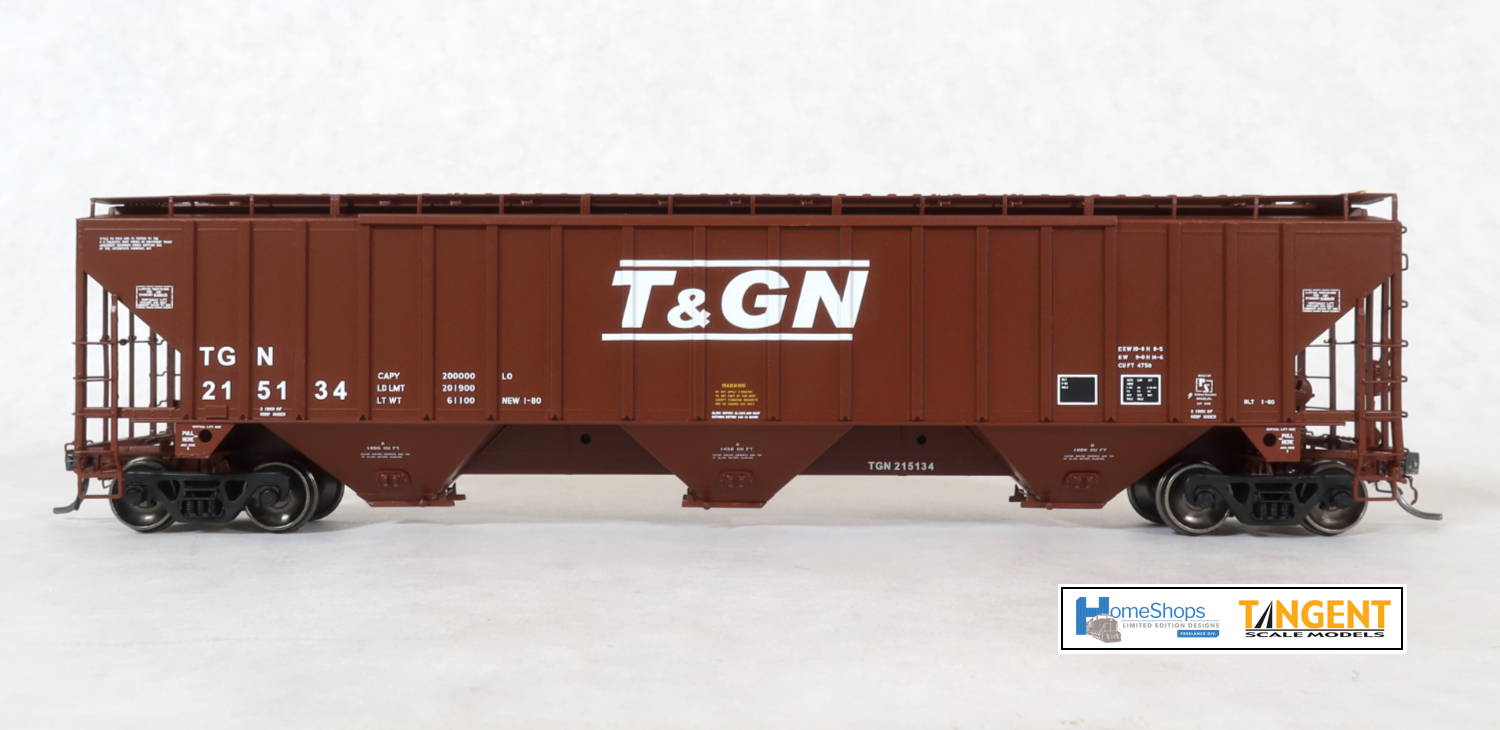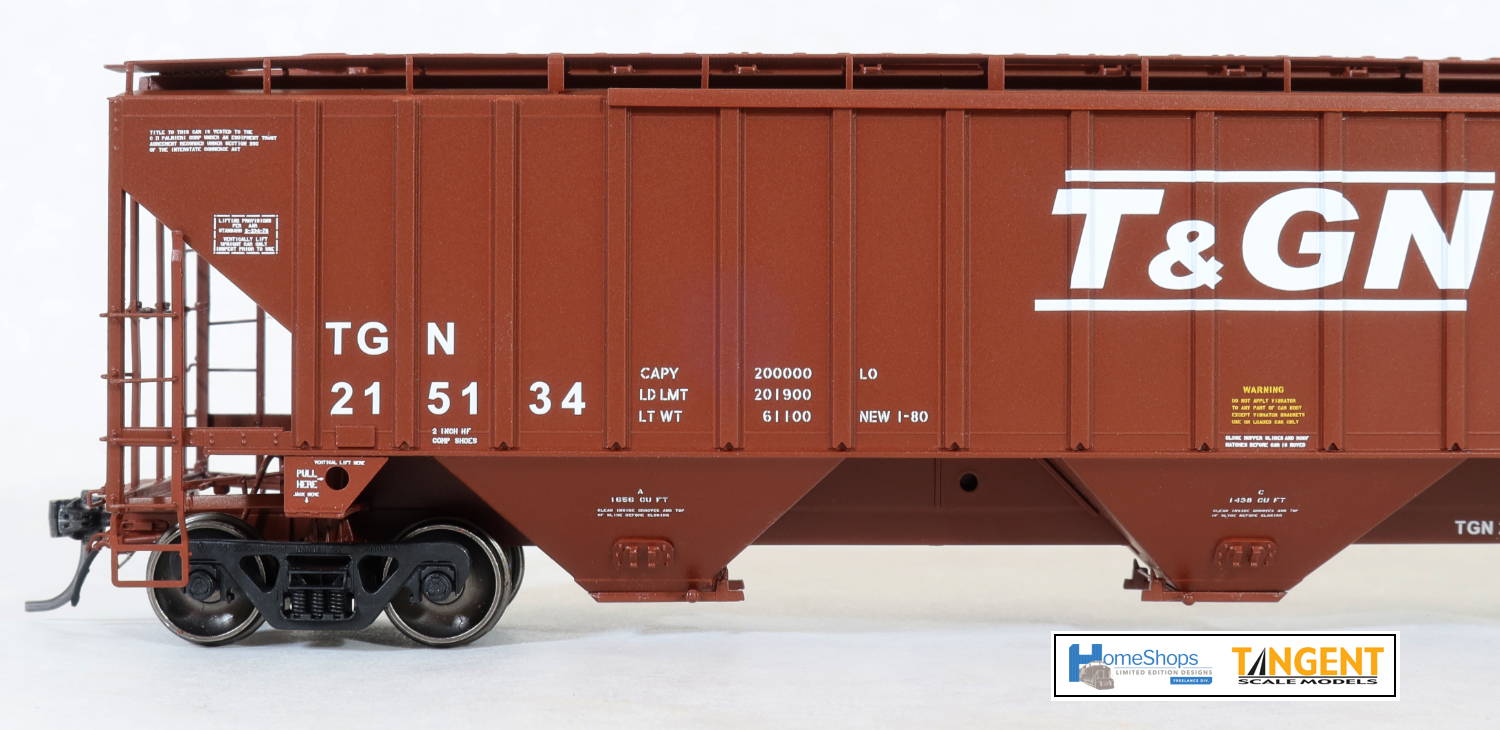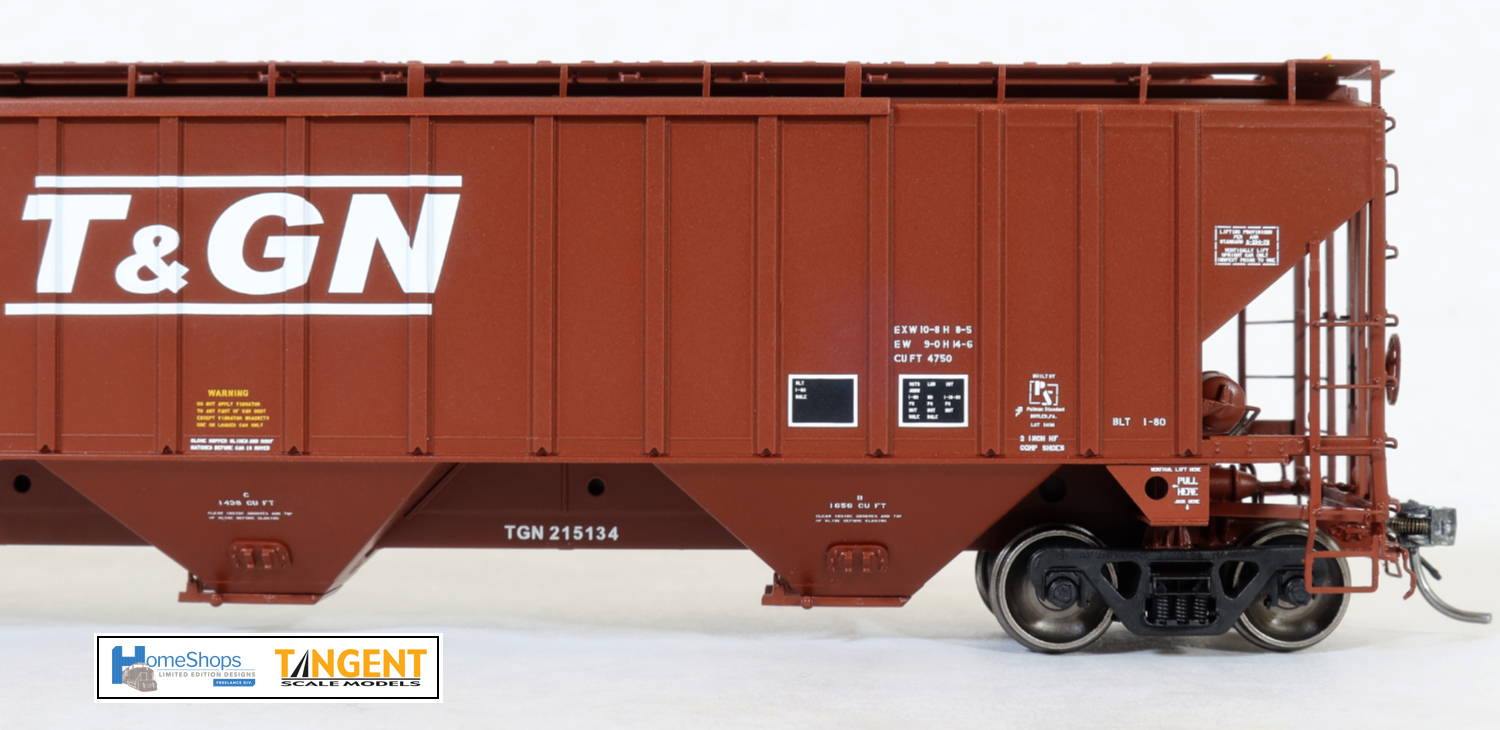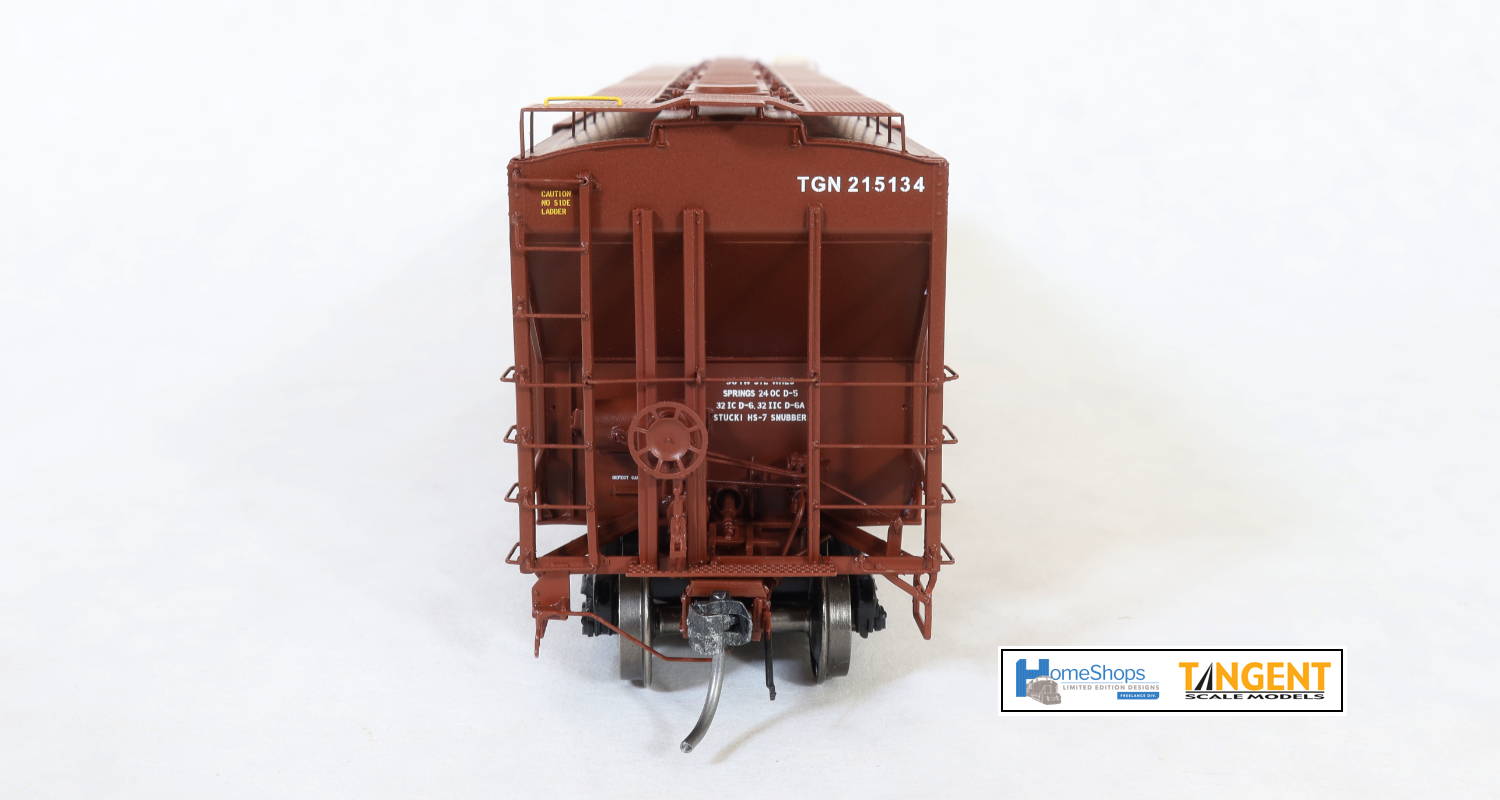 A Home Shops Limited Edition by Tangent Scale Models!
These cars are available in FOUR unique road numbers
* * * ONLY 65 CARS OF EACH NUMBER WERE PRODUCED * * *
SELECT YOURS BELOW!

Texas and Great Northern Photo Album
- Manufactured and Factory Painted by Tangent Scale Models
- Model: Pullman-Standard PS-2CD 4750 CUFT Covered Hopper Car
- Version: 1980 Body Style with Large Pull Tabs and Continuous Roof Walk
- Texas and Great Northern Series: TGN 215000-TGN 215749
- Numbers Offered: TGN 215071, TGN 215134, TGN 215155, TGN 215202
- Scale: HO 1:87.1
- Truck: Tangent 100-Ton Barber S-2 Roller Bearing Truck with Rotating Timken Caps
- Wheels: CNC-Machined 36" Wheels
- Couplers: Kadee Scale Metal
Freelance Railroad Spotlight: Texas and Great Northern Railroad
The Texas and Great Northern Railroad is one of the two flagship railroads that make up the freelance "Meridian Speedway" network created by Christopher Palmieri. Combined with the freelance Natchez Trace and Orient Railroad, these two sister railroads (much like Southern Pacific and Cotton Belt) represent a traffic-rich Class I railroad.
The freelance storyline begins in 1972 with the ICG merger being the catalyst for the acquisition of the Meridian, MS to Shreveport, LA line segment. The development of this railroad required the acquisition of lines in Texas and Oklahoma to create a robust network. These lines were put together under the name Texas and Great Northern! These combined railroads provide a solid route from Mexico at Presidio/Ojinaga to the southeast via Birmingham.
This railroad secured a significant amount of east-west bridge traffic that alternately would have operated through Houston and New Orleans by offering a quicker route…without all of those draw bridges!
Because of personal experiences on the shortline railroads belonging to paper giant Georgia Pacific, Mr. Palmieri used an adaptation of the "Tedder Green" locomotive paint scheme that was found on a number of the Georgia Pacific railroads including the Ashley Drew and Northern and the Fordyce and Princeton. The paint scheme is named for S. Russell Tedder, the late president of all eight of the Georgia Pacific railroads. Mr. Tedder was a fan of the freelance Meridian Speedway railroads. He told Mr. Palmieri that he always wondered what that paint scheme would look like on larger locomotives…and now he knew!