Gulf and Ship Island PS-4750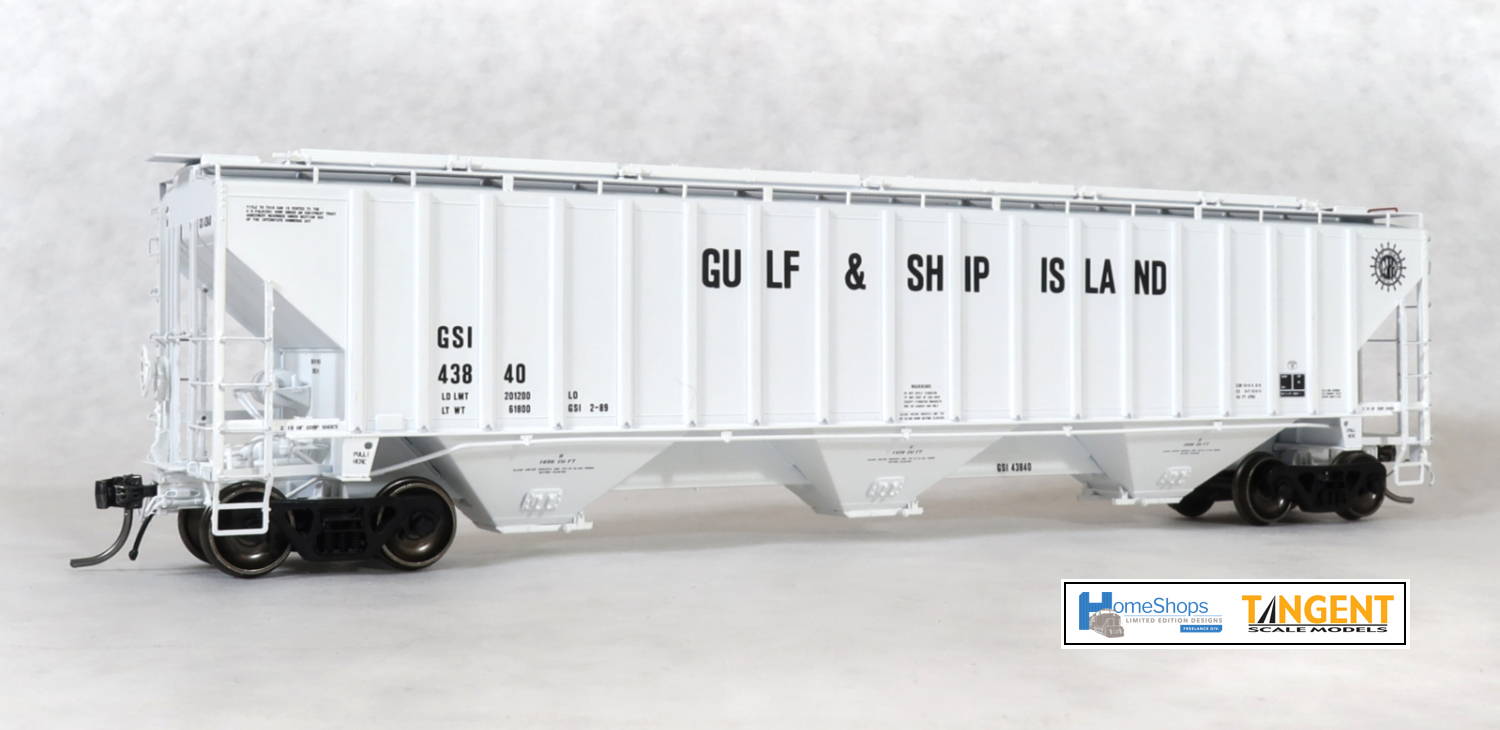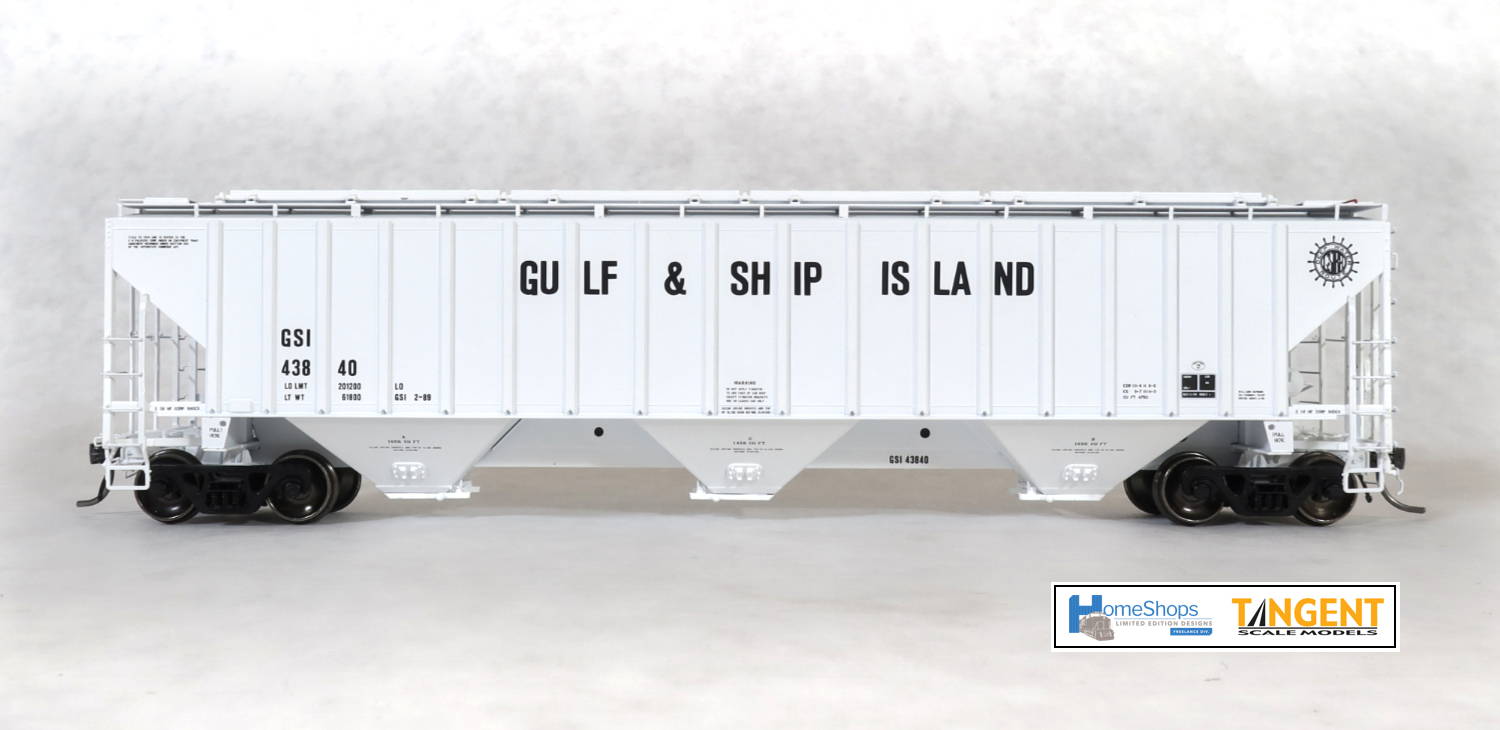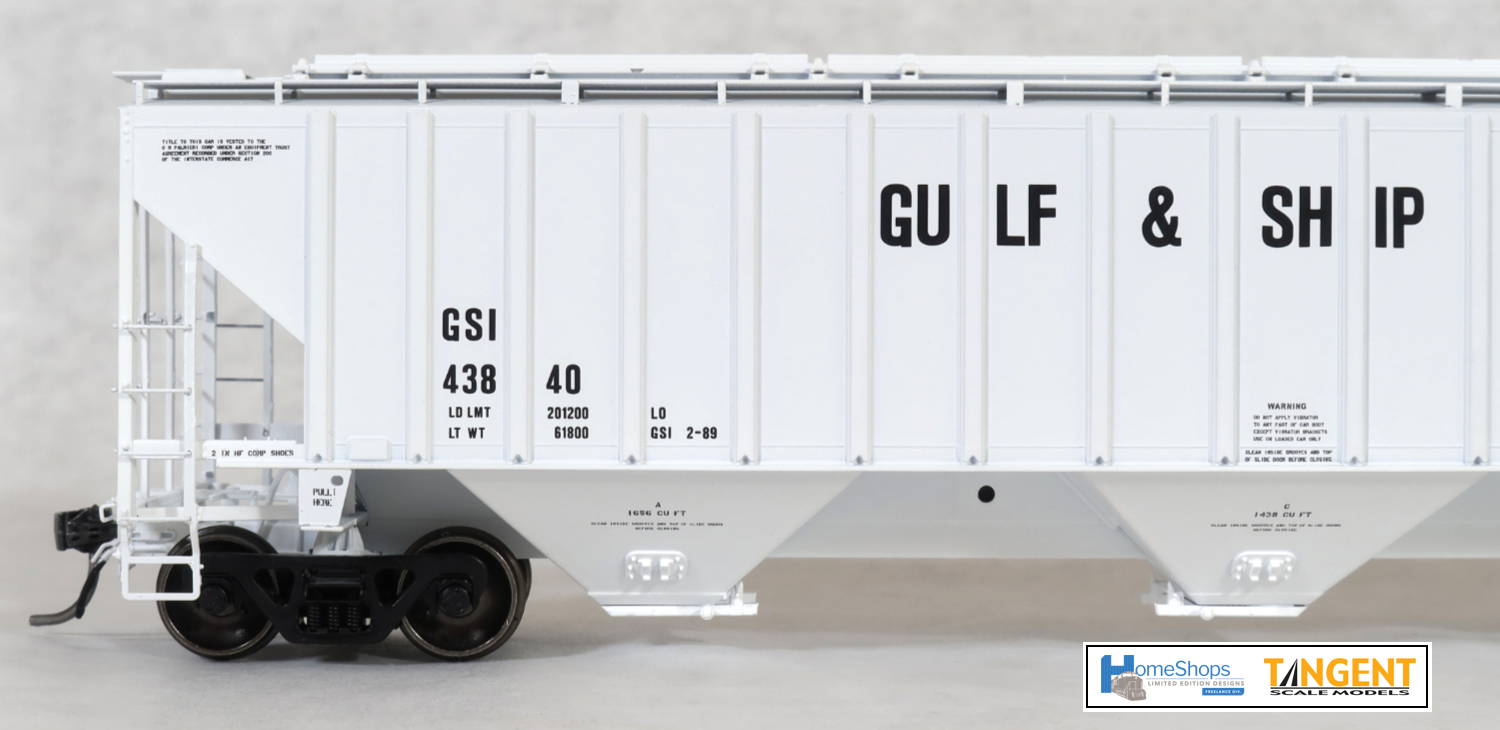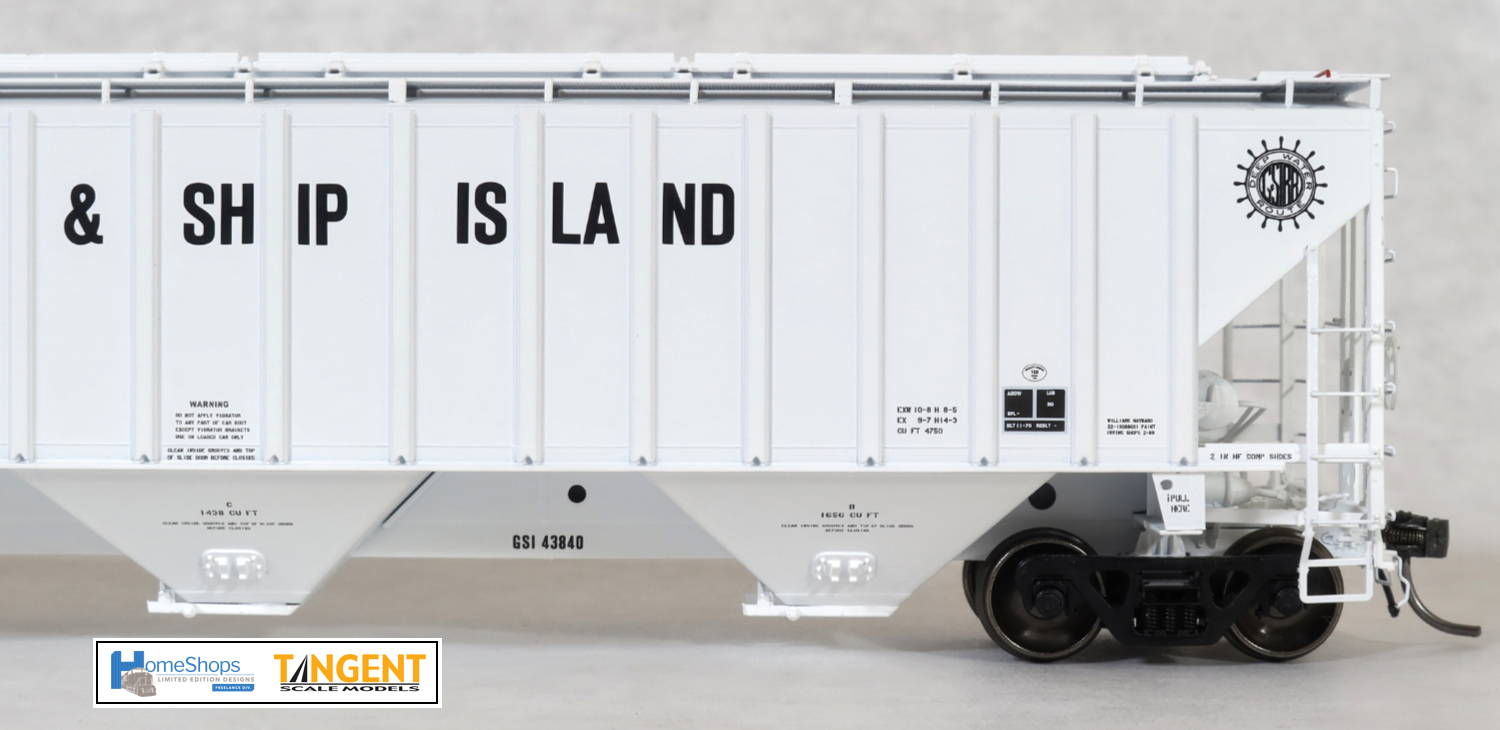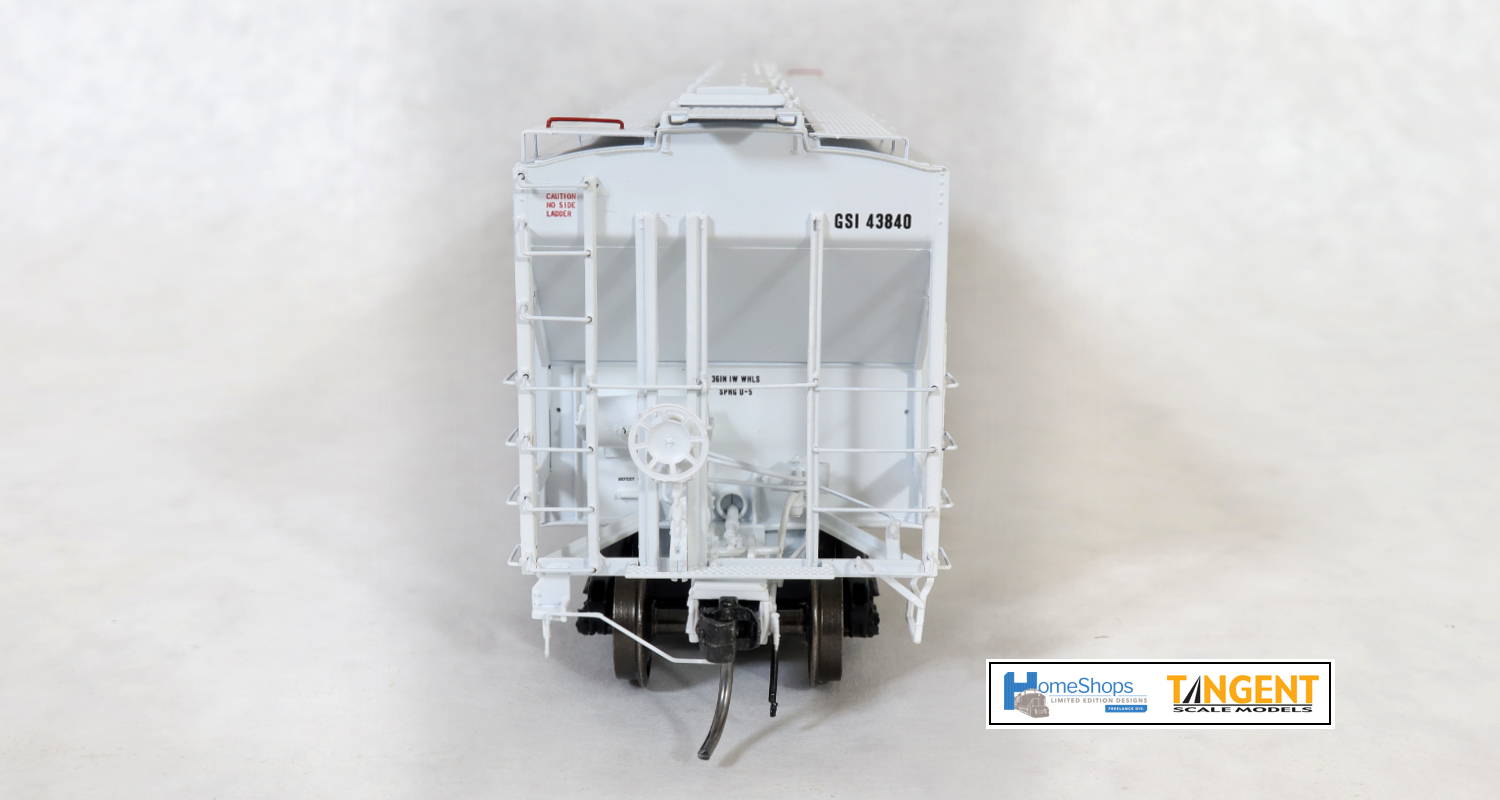 A Home Shops Limited Edition by Tangent Scale Models!
BUY yours now at the Pre-Purchase price of $49.95!!!
EXPECTED ARRIVAL: Summer 2022

In-Stock Price will be $54.95
*** Shipping Update - Factory production is complete and the cars are in transit. We expect to receive the GSI, KP, and MCIS PS-4750 Covered Hoppers this Summer. The AV, CSR, TGN, and WFN cars have arrived and are In-Stock! Thank you for your understanding and support! ***
These cars are available in FOUR unique road numbers!
* * * ONLY 65 CARS OF EACH NUMBER WERE PRODUCED * * *

SECURE YOURS TODAY!


Gulf and Ship Island Photo Album
- Manufactured and Factory Painted by Tangent Scale Models
- Model: Pullman-Standard PS-2CD 4750 CUFT Covered Hopper Car
- Version: 1979 Body Style with Small Pull Tabs and Split Roof Walk Ends
- Gulf and Ship Island Series: GSI 43700-GSI 43999
- Numbers Offered: GSI 43791, GSI 43840, GSI 43877, GSI 43924
- Paint Version - NTO/GSI 1989 Repaint
- Scale: HO 1:87.1
- Truck: Tangent 100-Ton Barber S-2 Roller Bearing Truck with Rotating Timken Caps
- Wheels: CNC-Machined 36" Wheels
- Couplers: Kadee Scale Metal
Freelance Railroad Spotlight: Gulf and Ship Island Railroad
The Gulf and Ship Island Railroad in the context of this product is a freelance railroad created by Christopher Palmieri. The name itself did exist in the prototype world once upon a time! Incorporated in 1882, the Gulf and Ship Island served the lumber industry from Gulfport, MS northward to Hattiesburg and Jackson. In 1925 the prototype Gulf and Ship Island Railroad became part of the Illinois Central Railroad.
One of the primary freelance railroads that comprises Christopher Palmieri's HO scale "Meridian Speedway" is his Natchez Trace and Orient Railroad. The storyline is that this railroad was born as a spinoff during the creation of the Illinois Central Gulf Railroad in 1972. While the primary route of the Natchez Trace and Orient is the east-west mainline from Meridian, Mississippi to Shreveport, Louisiana; the line from Hattiesburg to Gulfport that once was the Gulf and Ship Island was also part of the freelance transaction.
Although the freelance Gulf and Ship Island is not operated as a separate entity from the Natchez Trace and Orient Railroad, Christopher Palmieri wanted visitors to his Meridian Speedway to get a sense of the history and culture that made up the concept. Following the idea that railroads will paint and/or letter equipment for predecessor roads to maintain Trademark ownership, it was decided that some equipment would be painted for the Gulf and Ship Island. In the freelance world, Mr. Palmieri has scripted an export grain terminal at Gulfport, MS. As a result, grain hoppers are among the most prevalent car types to receive freelance Gulf and Ship Island paint.
The "Steering Wheel" logo bearing the slogan "Deep Water Route" was provided by fellow modeler Robert Tomb who had developed artwork for HO scale decals based on a rare photo of an actual Gulf and Ship Island boxcar!
The Gulf and Ship Island name was subsequently resurrected in the prototype world when Robert J Riley, CEO of Mississippi-based short line operator Rock Island Rail, announced that an agreement was reached with the Harrison County Development Commission. Rock Island Rail would restore the Seaway lead in Gulfport, Mississippi under the name Gulf and Ship Island! The Steering Wheel logo was even applied to GP15 1106!