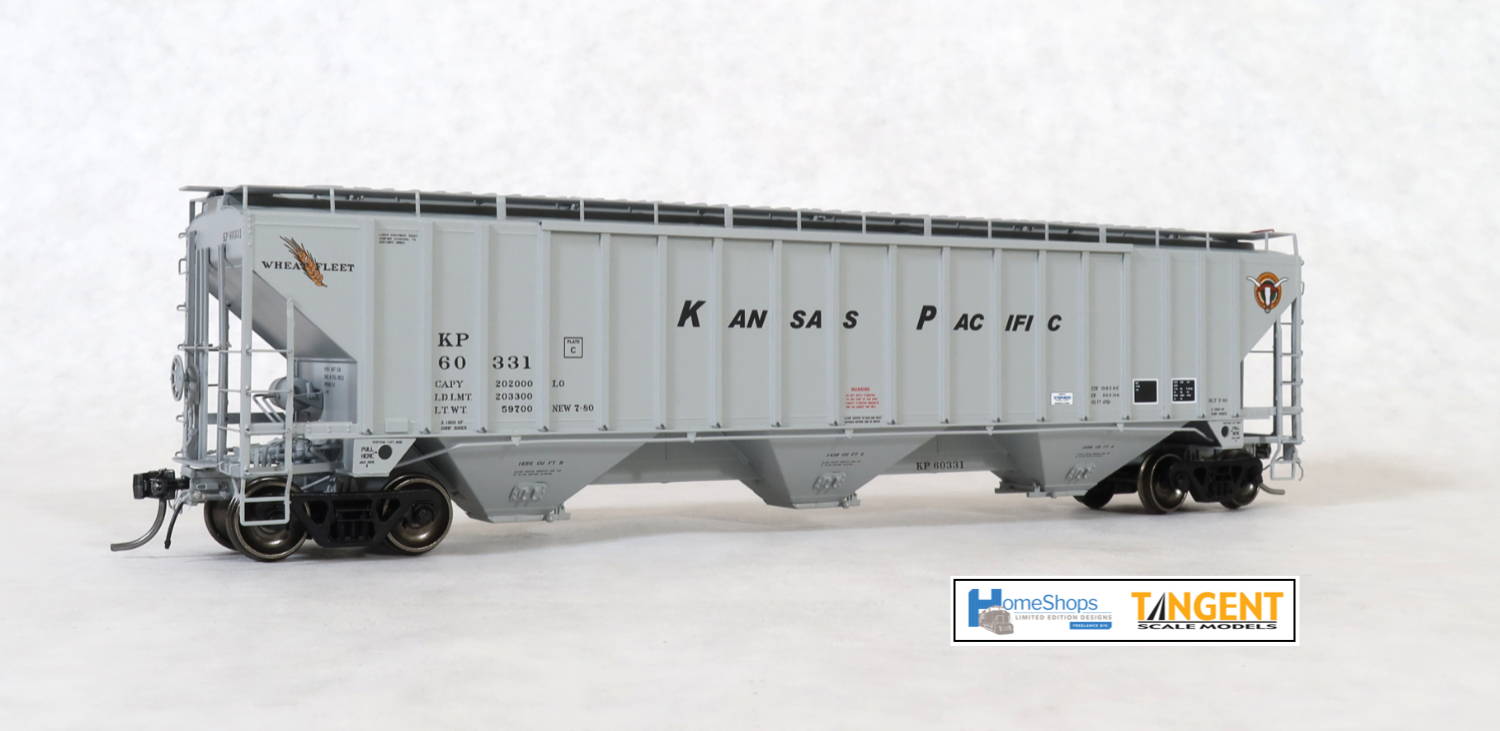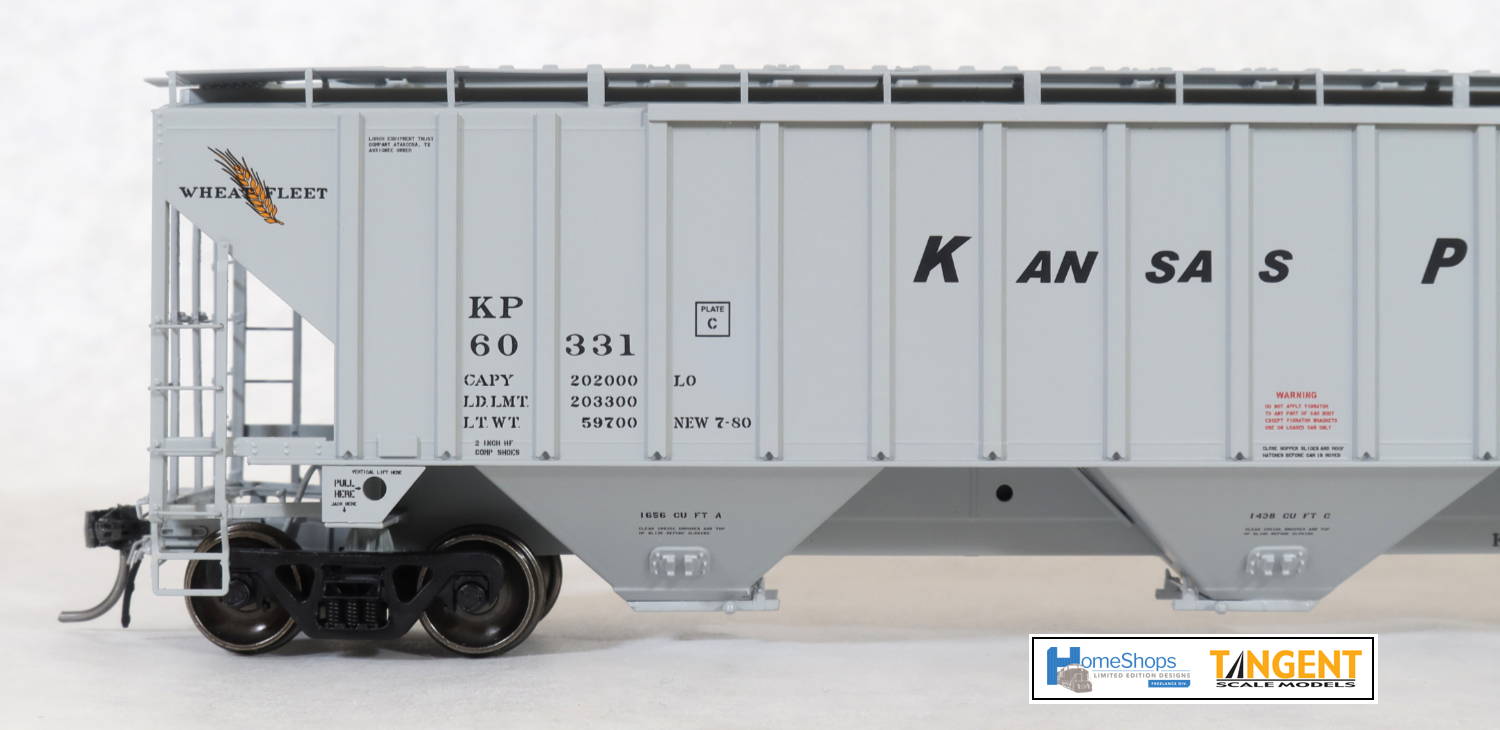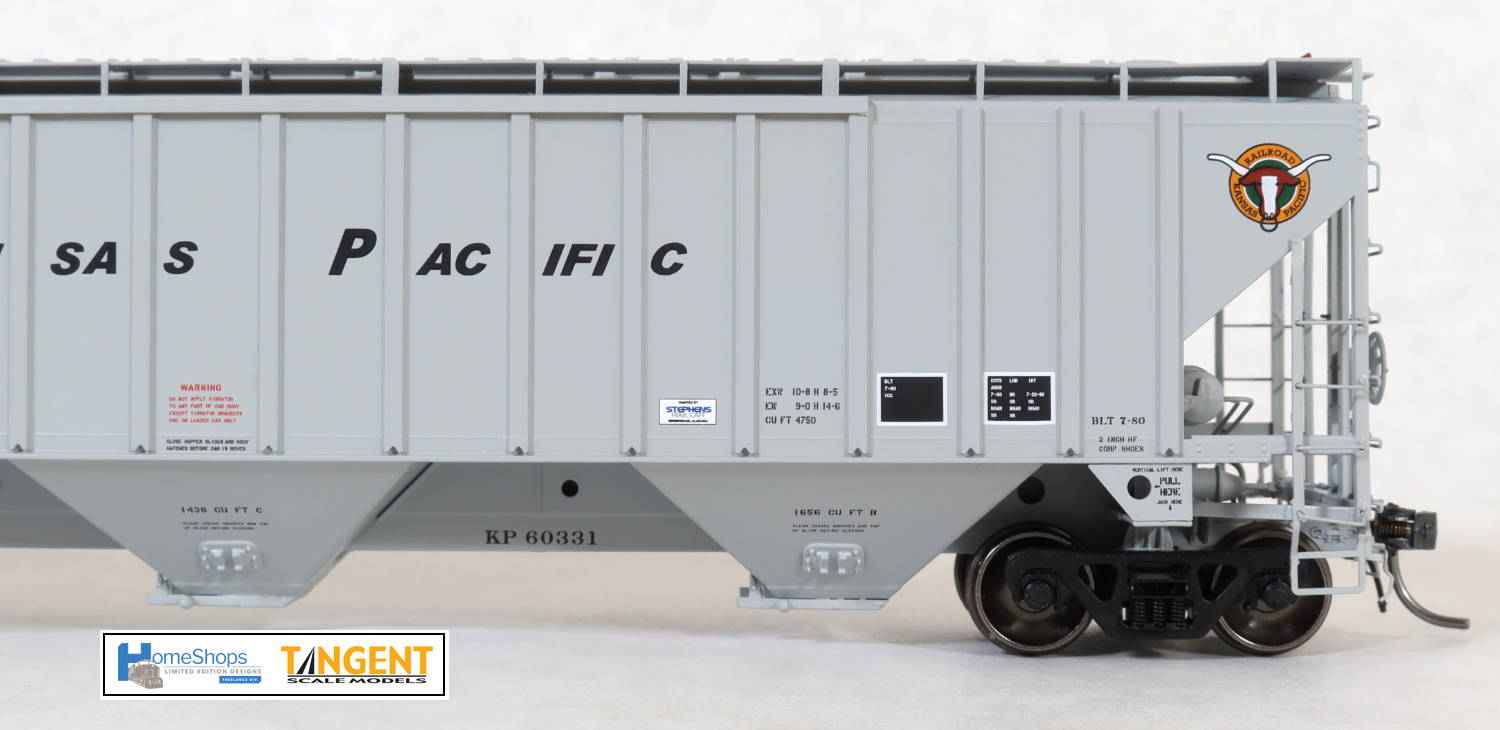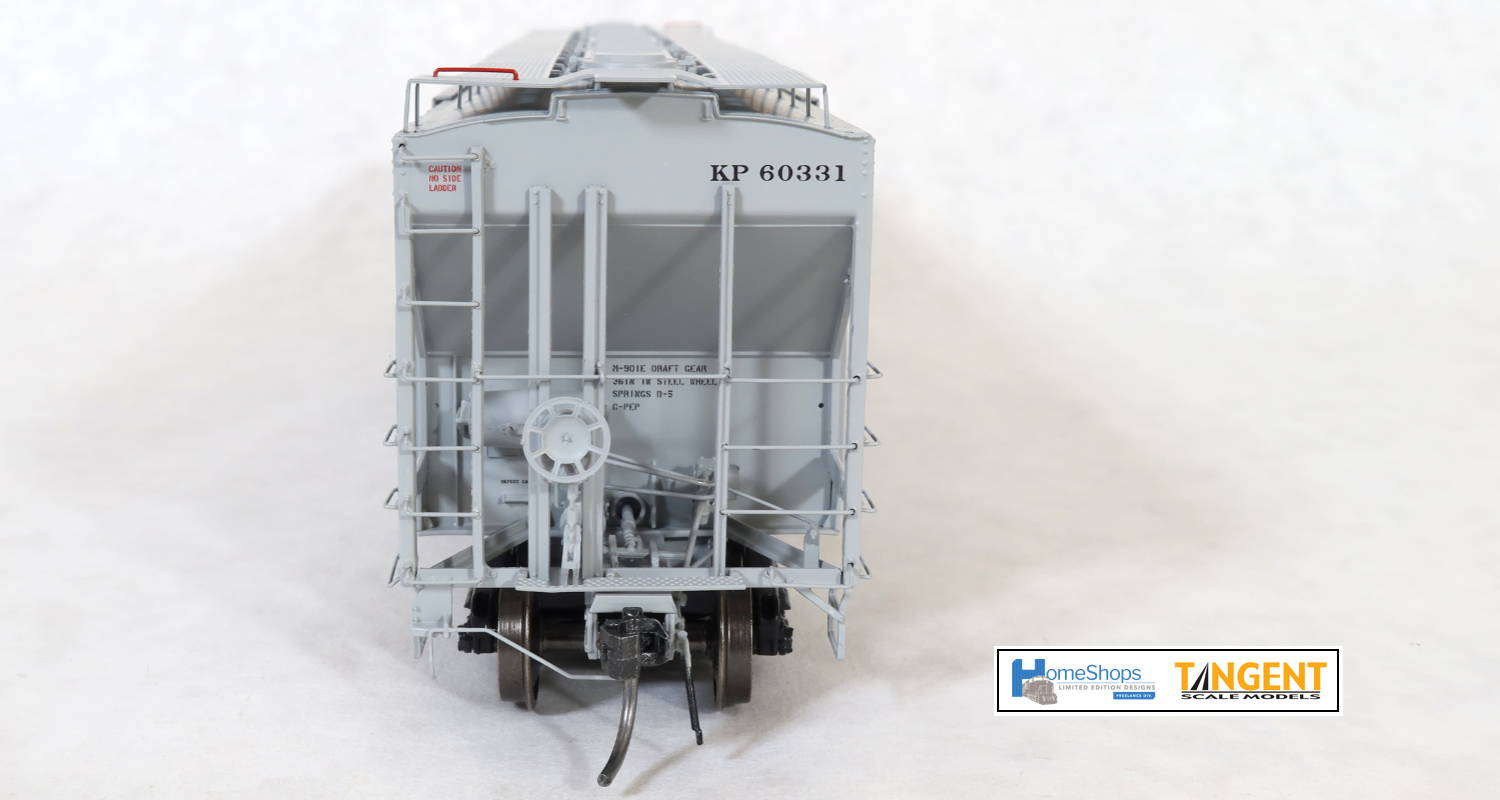 A Home Shops Limited Edition by Tangent Scale Models!
BUY yours now at the Pre-Purchase price of $49.95!!!
EXPECTED ARRIVAL: Summer 2022

In-Stock Price will be $54.95
*** Shipping Update - Factory production is complete and the cars are in transit. We expect to receive the GSI, KP, and MCIS PS-4750 Covered Hoppers this Summer. The AV, CSR, TGN, and WFN cars have arrived and are In-Stock! Thank you for your understanding and support! ***
These cars are available in FOUR unique road numbers!
* * * ONLY 65 CARS OF EACH NUMBER PRODUCED * * *

SECURE YOURS TODAY!


Kansas Pacific Photo Album
- Manufactured and Factory Painted by Tangent Scale Models
- Model: Pullman-Standard PS-2CD 4750 CUFT Covered Hopper Car
- Version: 1980 Body Style with Large Pull Tabs and Continuous Roof Walk
- Kansas Pacific Series: KP 60300-KP 60399
- Numbers Offered: KP 60308, KP 60331, KP 60354, KP 60393
- Paint Version - 1980 "As Delivered" - Stephens Railcar Kit Build
- Scale: HO 1:87.1
- Truck: Tangent 100-Ton Barber S-2 Roller Bearing Truck with Rotating Timken Caps
- Wheels: CNC-Machined 36" Wheels
- Couplers: Kadee Scale Metal
About the Kansas Pacific
The Freelance Kansas Pacific is the masterpiece of Anthony Lorch. Together with Hank Stephens of the Freelance Georgia Road, they have developed a concept that reaches into history and resurrects a name from another time and brings it to life in a modern day hit! We are pleased to make available the Kansas Pacific PS-4750 in this run!
Prototype History
The Kansas Pacific was a very real railroad in the mid 1800's. This Kansas Pacific was folded into the Union Pacific Railroad with current Union Pacific routes traceable to the "KP"! There is much information online about the real Kansas Pacific.
Proto-Freelanced History
The first Kansas Pacific (KP) line ran from Kansas City to Denver with cattle being the primary commodity shipped. As the years went by the KP expanded throughout Kansas connecting the many small towns that produced cattle, grain, and other foods with big-city markets. The KP was the lifeline for the ranching and farming communities in the territory served. From Kansas the KP was expanded into Oklahoma in the early 1900's again connecting the ranchers and farmers in the area with other railroads in Kansas City and Denver to ship their products east and north.
Oklahoma City became a major hub for the KP as it was decided to expand west towards California. At the same time expansion to Fort Worth, TX was a must for the large cattle ranches in the region. Land grants from the government helped facilitate the westward expansion as the KP was not going to move forward with this expansion on its own.
Fast forwarding to modern times, the KP merged with the Royal Gorge & Southern in the mid 1990's which gained access to the coal producing areas in Utah. The KP would connect this coal to markets in Mexico and ports for overseas export. KP also has a controlling interest in CIRAIL. Now with a shortened route west from Denver, the KP is better positioned to compete for traffic destined to the west coast.
Today's Freelance Kansas Pacific is headquartered in Kansas City. The main diesel shop is also in Kansas City with additional running repair shops in Oklahoma City, Denver, Albuquerque, and Phoenix.
The Locomotive roster is heavy with SD50 and SD60/SD60M locomotives. 1998 locomotive orders include SD75I, SD75B, SD70MAC, and C44-9W models. In 1st quarter 1998, the Kansas Pacific purchased Tier 0 locomotive rebuilds from Stephens Rebuild Shops (Hank Stephens of the Georgia Road). These locomotives classified as SD44LEOs were powered with Caterpillar engines. The SD44LEOs arerebuilt from Southern Pacific SD45T-2s with EMD wide cabs and 4400-hp CAT prime mover with the Low Emissions High Output (LEO) package.