VIRGINIA AND ATLANTIC - A GREAT FREELANCE NAME!
© 2023 HANK STEPHENS - Guest Author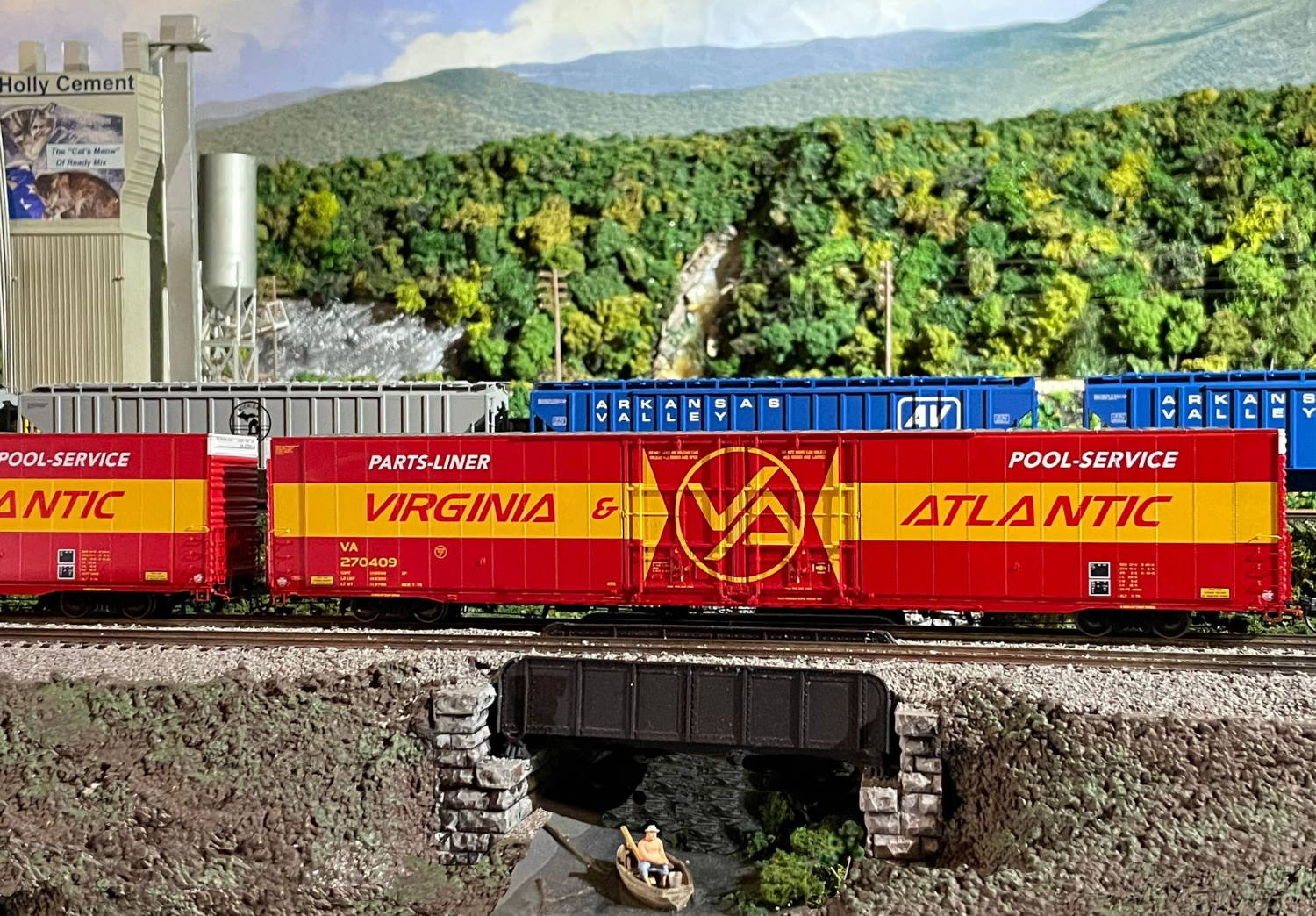 For any prototype-freelance model railroader, developing a railroad's identity constantly drives the design process. Carefully choosing the railroad's name instills a sense of belonging and connectivity that gives plausibility to the existence of the railroad.
Some names reflect operational concepts as slightly off-center copies of what they know. Other names create a world from scratch. Some names even walk a fine-line between the real and imaginary, finding a design scheme somewhere between the extremes. When freelance modelers think of the V&O, AM, UB, CM&SF and countless others, their names call up specific images and concepts.

I was exposed to the Virginia & Atlantic concept on one of the long obsolescent Yahoo Groups whose subject was prototype freelance modeling. Networking was new back then, and the few answering the strange call to model the "what if" gathered regularly to display their efforts, bounce around ideas, and sharpen creative skillsets. For many, myself as one in particular, it was a first chance to meet and know modelers who had similar interests.
Rhett Coates joined the group and introduced a well-developed concept known as the Virginia & Atlantic that he helped create for his friend and fellow modeler Scott Nelson. Rhett posted logo sketches and early HO models on a club layout where they were members. Scott, Rhett and I were both huge fans of the Appalachian Lines (V&0-AM-VM) and I spent more than one night bouncing ideas and discussing details of our respective concepts. I volunteered to turn sketches into decal artwork, matching ideas to concept drawings. Scott and Rhett had a well-defined paint scheme, system map and models in the beginning. My job was to piggyback their designs and standardize logos and fonts to create reproducible decals. As branding the Virginia and Atlantic evolved, locomotive decal artwork progressed to freight car design and eventually even the company business train!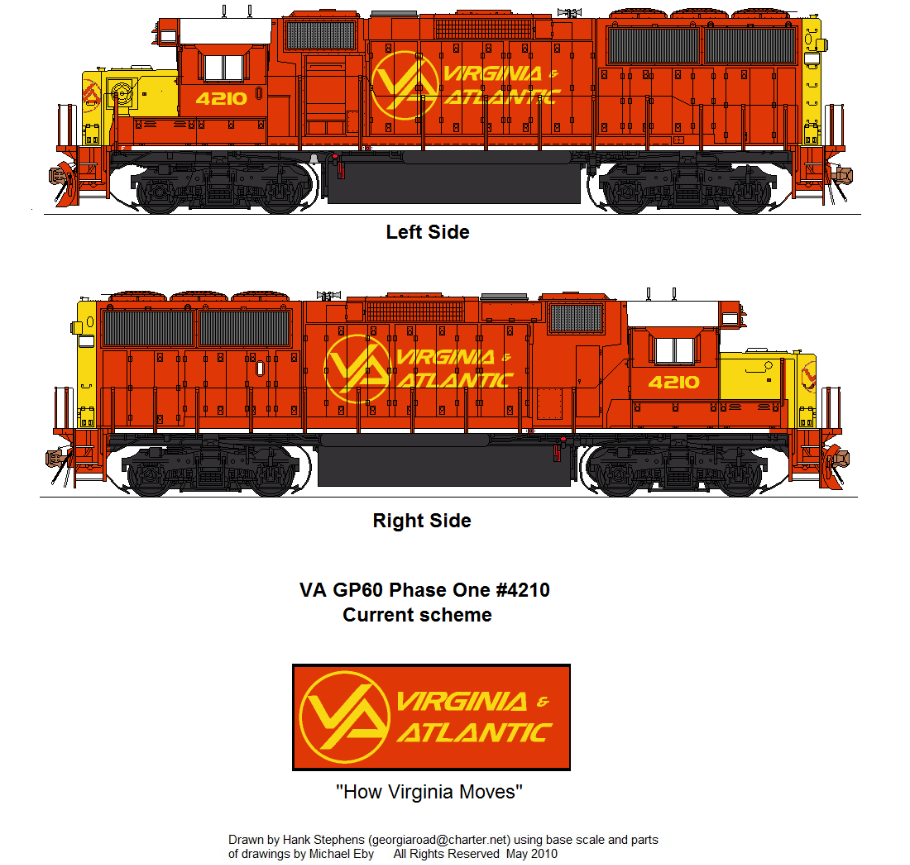 One project in particular that the two were trying to establish was the significant automotive traffic moved by the Virginia & Atlantic. The auto parts traffic ideas were quite detailed, but lacked a paint scheme. Scott wanted something to feature the logo, similar to how some of the prototype railroads featured elaborate paint schemes in the 1970s-80s as modern era rolling billboards. I was a fan of the V&A "circle" logo created by Rhett from the beginning. The first idea that came to mind was the Southern Pacific auto parts cars with the large circle and gothic SP lettering. See the photo below by James Belmont Photography found during a casual Google search.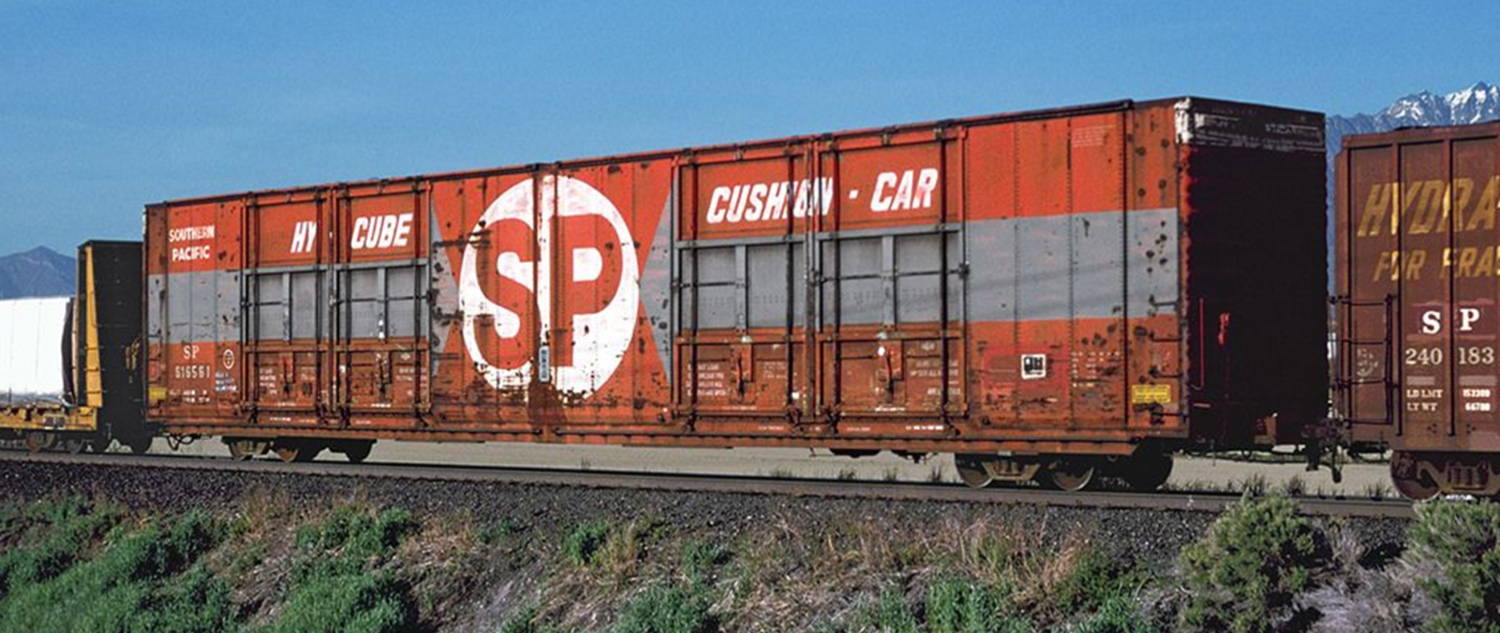 Photo of SP 616561 by James Belmont illustrates the inspirational Southern Pacific paint scheme.
At the time of our collaboration, the only models available were the old Athearn "blue box" cars and more recent Walthers releases. Scott had the cars with the centered single pair of doors so that is what the concept was based upon. My worry in adapting the scheme with a big V&A circle logo was the fact it would land centered on the doors. All that detail on the doors would make decaling with a large logo a headache, but Scott and Rhett felt this design was doable, so we settled on our own version.
After looking up reference pictures and at the encouragement of Scott and Rhett, I hammered out a concept. This required me to create the drawing "blank" for the car, which took hours of trial and effort studying photos. In this case, the first time was a charm, as it seemed to fall into place. I flipped the colors to reflect the red and yellow of the V&A and unlike SP, featured a full-size standard logo.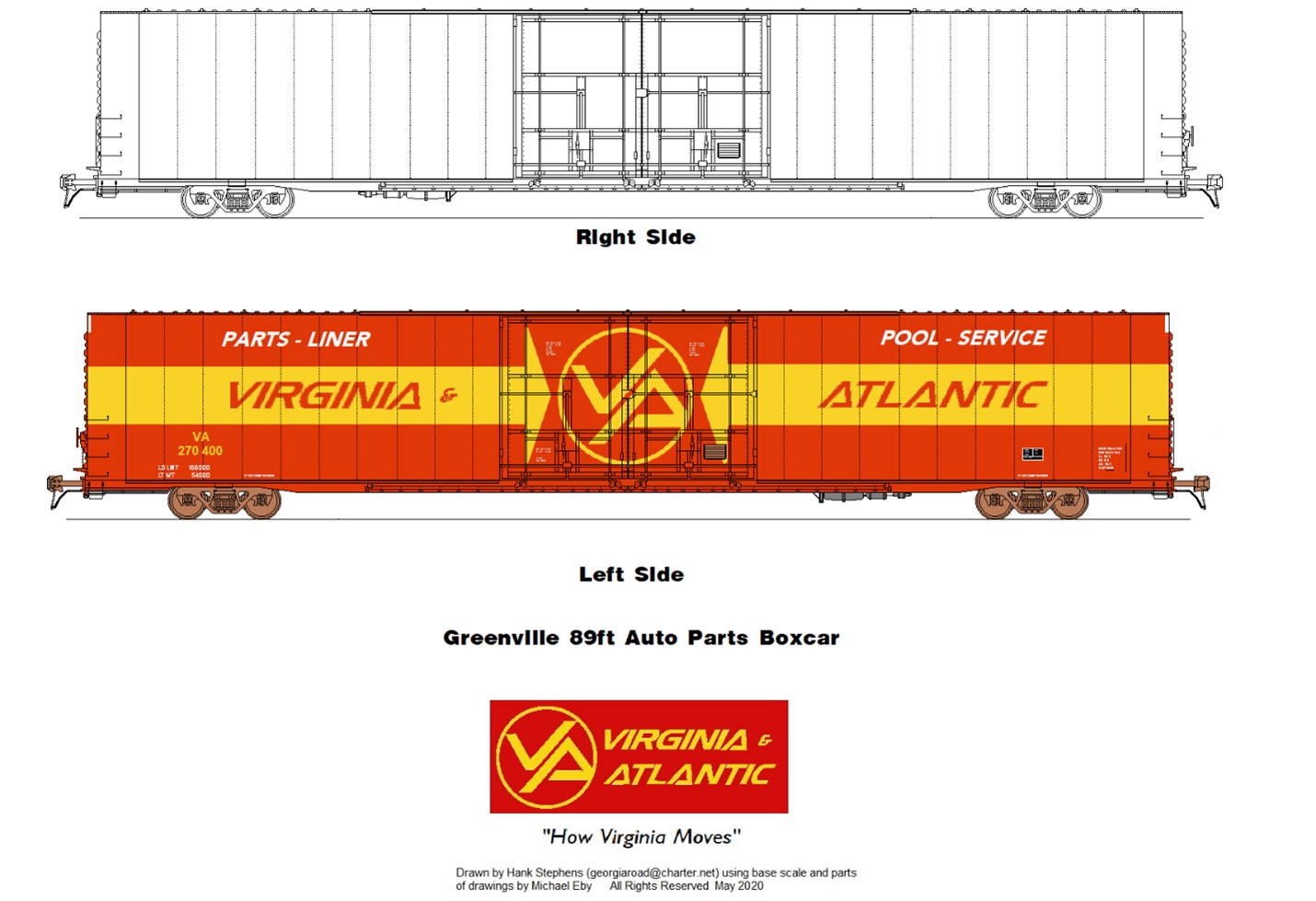 Fast Forward nearly ten years when Chris Palmieri approached with the idea of producing manufacturer painted rolling stock featuring various notable and familiar freelance railroads. He was looking for ideas for subjects to produce, and I suggested the Virginia & Atlantic concept as having potential. After making introductions between Chris, Scott and Rhett, the idea of the Virginia & Atlantic Railway auto parts boxcar moved from a crazy idea to a Tangent model featured by HOME SHOPS, LLC. The fascinating part for me in all this was helping out fellow modelers and seeing a concept move from the drawing board to the final production model.
I would like to extend a special thanks to Scott Nelson, Rhett Coates and Chris Palmieri for all their contributions in creating a very believable concept and making it come to life as a soon to be released Tangent HO scale project.
H in AL

Web-Master Notes:
The Virginia and Atlantic 86' Box Car is one of three freight car liveries offered by Home Shops which were designed by Hank Stephens. The Kansas Pacific PS-4750 Covered Hopper as well as the Cincinnati and Lake Erie 86' Box Car are also the result of his keen eye and skill!
We are pleased to offer the stunning Virginia and Atlantic 86' Box Car in two road numbers. Be sure to get yours while supplies last!
To learn more about the Virginia and Atlantic, hit the button below to visit their Facebook page!